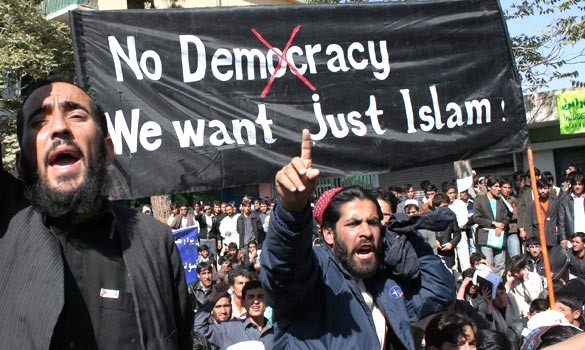 [Fazendo uma breve introdução a este tema (e não me esquecendo eu do facto de que as crenças pessoais e religiosas de todos devem sempre ser respeitadas)... O que se passa, é que a religião islâmica não é apenas mais uma religião qualquer (da mesma maneira que também o Fascismo ou o Comunismo não podem ser descritos meramente como mais umas quaisquer ideologias políticas). Sendo antes o Islamismo uma religião na qual é justificável matar e massacrar aqueles que não sejam adeptos da mesma. E sendo os grupos terroristas que se baseiam no Corão (assim como quem celebrou mais um recente atentado terrorista) pessoas que estão meramente a seguir e concordam com alguns dos princípios que são neste livro defendidos (enquanto a maioria dos adeptos desta religião simplesmente escolhe ignorar tais princípios). E, isto, falando apenas de alguns dos mais bárbaros actos defendidos e cometidos pelos adeptos desta religião - que, como muitos saberão, não são os únicos...]
Study: One Third of Young Muslims in France Think Terrorism is "Acceptable"

Full report delayed until after the election because it's not "politically correct"

Paul Joseph Watson
PrisonPlanet.com
March 21, 2017

A third of young Muslims in France think that terrorism is "acceptable" a new study has found, with the full report being delayed until after the election because it is not "politically correct".

Findings of the study, which canvassed the opinions of 6828 high school students after the 2015 Paris attacks, were presented at a press conference in the French capital by researchers Olivier Galland and Anne Muxel.

The results are disturbing but not surprising given attitudes amongst Muslims living in European countries.

– A young Muslim is four times more likely to adhere to radical beliefs than a Christian.

– 33% of Muslim students consider it "acceptable" to "participate in violent actions for his ideas". In other words, a third are sympathetic towards terrorism.

– 20% of Muslim students agreed with the statement that it was "acceptable to stand up for your religion with weapons".

– 24% of those surveyed refused to fully condemn the Charlie Hebdo killings.

– 21% of those surveyed refused to fully condemn the Bataclan theater massacre during which 89 people were killed as part of the wider November 13 Paris attack that claimed 130 lives.

It is worth emphasizing that the percentage of young Muslims who refused to condemn Charlie Hebdo and the November 13 massacre are likely to be much higher than the numbers listed above given that those results are representative of the entire sample, and Muslims make up just 25% of the sample.

"When asked if these attitudes could be due to economic and social factors or a sense of victimisation, the researchers responded that "membership in the Muslim religion is the most predictive factor," notes Westmonster.

The results were "not very politically correct," remarked French journalist Gurvan Le Guellec, while others at the press conference expressed concern about the timing, noting that the full report would not be released until after the election.

Left-wing newspaper Le Monde slammed the researchers for "opening Pandora's box" by simply relating the facts of the study.

However, the results are in line with previous polls such as a 2006 Pew Global Attitudes study which found that 42% of Muslims aged 18-29 thought that suicide bombings were sometimes justified.

The study vindicates the concerns of the majority of Europeans who, when asked in a recent Royal Institute of International Affairs survey, said they would like to see a total ban on Muslim immigration.

(Passagens violentas no Corão: http://www.thereligionofpeace.com/pages/quran/violence.aspx)