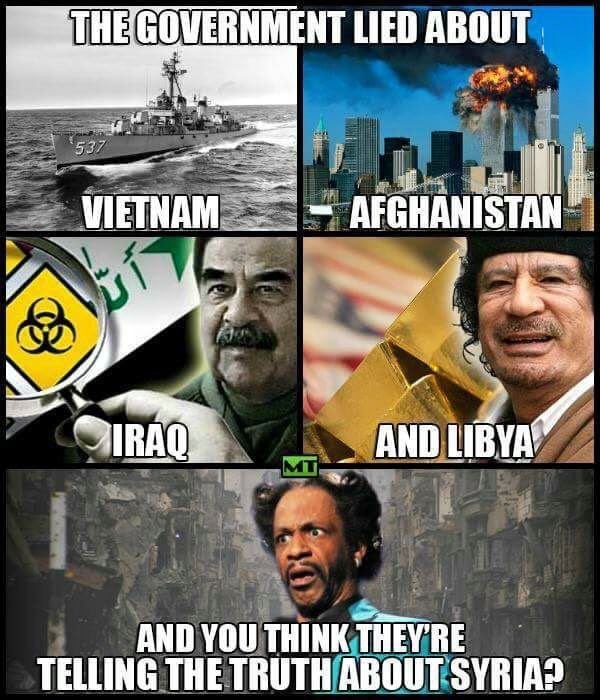 [Quem pense que o perigo de uma Terceira Guerra Mundial foi eliminado com a não eleição de Hillary Clinton, desengane-se... Pois, com alguém que não prima pela sanidade mental e com notórios complexos de grandeza na presidência dos EUA, que não pensa duas vezes antes de "premir o gatilho", é este um perigo que irá estar sempre presente.]
Peligro y estúpido ataque a Siria: los británicos y neoconservadores engañaron a Trump

[LaRouche PAC] 7 de abril de 2017 — El ataque con misiles crucero ordenado por el Presidente Trump contra la base aérea siria fue un acto "estúpido", con base en mentiras descaradas que le vendieron a Trump los británicos y los neoconservadores que han penetrado su gobierno, y que no quieren ver que surja una alianza entre Estados Unidos, Rusia y China. Esta fue la evaluación de Lyndon LaRouche y de Helga Zepp LaRouche, quienes destacaron que la escandalosa y peligrosa violación del derecho internacional que le endosar a Trump, es parte también de la "revolución de color" que está ya a todo vapor, el golpe de Estado de Wall Street diseñado para tumbar su gobierno.

"Los británicos pusieron en movimiento esto contra toda la especie humana", señaló Lyndon LaRouche específicamente.

Los ataques comenzaron a las 00:45 GMT del 7 de abril, en el momento en que se iniciaba el banquete oficial del Presidente Trump al mandatario visitante de China, Presidente Xi Jinping, luego de la primera fase de su reunión en la residencia de Mar-a-Lago, Florida. Después de la cena, Trump se retiró para hacer la declaración oficial del ataque contra Siria.

La acción que se calificó oficialmente como un ataque de "solo una vez", se realizó desde los buques de la armada de Estados Unidos estacionados en el Mediterráneo, que lanzaron 59 cohetes crucero Tomahawk contra la Base Aérea de al-Shairat en Homs, Siria. El Departamento de Estado emitió una declaración en la que dice que se le dio aviso previo a Rusia en el contexto del acuerdo existente para evitar conflictos. Siria no fue informada directamente, pero se podría esperar que Rusia informó a Siria. El gobierno sirio informó que 6 soldados sirios fueron asesinados en el ataque.

En el anuncio de los ataques, el Presidente Trump estableció como un hecho supuestamente probado que "el dictador sirio Bashar al-Assad lanzó un horrible ataque con armas químicas contra civiles inocentes... No puede haber ninguna discusión sobre que Siria utilizó armas químicas prohibidas". Estas son aseveraciones sin prueba que le pasaron a Trump como hechos, antes de que se realizara ninguna investigación competente por parte de la ONU o de ningún otro organismo. Diversas fuentes de inteligencia bien informadas le han dicho a EIR que la Fuerza Aérea Siria realizó realmente un ataque aéreo contra lo que ellos consideran un depósito de armas del Estado Islámico (EIIS), que resultó que tenía armas químicas pertenecientes a los terroristas, y que estos hechos son conocidos por las agencias de inteligencia de Estados Unidos, pero que no fueron reportadas verazmente al Presidente Trump.

En su breve anuncio Trump dijo también que "es del interés vital de la seguridad nacional de Estados Unidos prevenir y disuadir el empleo de armas químicas letales... Esta noche, llamo a todas las naciones civilizadas a unirse a nosotros en el objetivo de acabar la masacre y el baño de sangre en Siria".

El Secretario de Estado, Rex Tillerson, alegó que Rusia no había cumplido en implementar el acuerdo de 2013 para destruir las armas químicas de Siria. "Es claro que Rusia ha fallado en cumplir con ese compromiso de 2013", le dijo Tillerson a los periodistas en Florida. "Así que, o Rusia ha sido cómplice o Rusia ha sido incompetente en su capacidad de cumplir... Nosotros sentimos que el ataque fue proporcional", agregó.

"Esto indica de manera clara que el Presidente está dispuesto a tomar acciones decisivas cuando sea necesario", alegó Tillerson. "En ningún modo intentaría extrapolar que eso es un cambio en nuestra política o en nuestra postura con relación a nuestras actividades militares en Siria hoy. No ha habido ningún cambio en ese estatus", agregó.

De acuerdo a un funcionario de la defensa de Estados Unidos, a quien cita la agencia Reuters, Trump preguntó primero el 5 de abril cuáles serían las posibles acciones militares, después de que las agencias de inteligencia le habían dado la línea de que las naves sirias estacionadas en la Base Aérea de el-Shairat habían lanzado gas sarín contra civiles.

No se ha presentado ninguna "prueba" pública. La única información pública se origina de los llamados "Cascos Blancos", un grupo financiado por los británicos y con conocidos nexos con el Estado Islámico.

 

*

 

LPAC Statement on Syria bombing: Fraud Against the President; Fraud Against the Nation

April 7, 2017 — In reviewing the Syria bombing ordered by President Donald J. Trump yesterday, Lyndon and Helga LaRouche condemned it in the strongest terms possible. President Trump received a fraudulent briefing on the event itself – asserting that Bashar al-Assad was responsible for a chemical weapons attack on his own population – despite the fact that U.S. military forces on the ground in Syria knew that the chemicals came from an Al-Qaeda base, as stated by Russia and Syria. President Trump was lied to by individuals in his national security/intelligence chain of command. The sources utilized to claim Syrian culpability for the attack are exclusively British, the same people who are coordinating the international attack on Trump's Presidency, in an effort to destroy any positive potential for relationships with Russia and China to rebuild the U.S. and world economy. This was a violation of international law. Trump was setup. "The British set this in motion against the entire human race," Lyndon LaRouche emphasized.

LaRouche said the Trump must immediately seek out those responsible for the fraud and fire them. A United Nations investigation of the incident must occur immediately. Following both, a war crimes prosecution would be appropriate. The President should never listen to the British. It is not accidental that this setup occurred right when the President was meeting with China's President Xi Jinping – a meeting which has the British and their Wall Street allies completely apoplectic – a meeting which could portend a new and peaceful paradigm for economic and scientific progress.

LaRouche PAC is coordinating a national mobilization against this fraud, telling the President to fire those responsible, and return to the sound American system premises of his Presidency, not the World War III policies of Barack Obama and Hillary Clinton. Nothing less than the continued viability of his presidency is at stake. We are also demanding that the United Nations immediately investigate.

According to numerous intelligence community sources who have commented or who have been interviewed by LaRouche PAC, active duty U.S. forces on the ground in Syria knew that this was not a Syrian government chemical attack. The Syrians hit an Al-Qaeda base which was storing chemical weapons used by the terrorists. U.S. forces on the ground reported that it was not a Syrian chemical weapons attack up the chain of command. The United States had been notified of the Syrian mission before it took place and knew about the Syrian targeting. Someone either deliberately lied to the President about this information or kept it from him.

The on the ground intelligence purporting to document a chemical weapons attack by the Syrian Air Force came from the White Helmets group, created by the British, financed by the British Defense Ministry, and totally penetrated by and supporting ISIS and Al Nusra terrorists. The other cited "proof" comes from the Syrian Human Rights Observatory which consists of a single individual, residing in London, who is notorious for widely disseminating inaccurate information.

The President needs to hear from those who voted for him and other patriots who are not interested in World War III or perpetual war in the Middle East. The swamp which needs draining is the Wall Street/London/Washington D.C. neo-conservative, liberal interventionist swamp which has squandered the nation's wealth, and involved our youth in fraudulent wars destroying the morale of an entire generation. Mr. President, find, fire, and prosecute those responsible for this.

Call the White House comment line at 202-456-1111 Monday-Friday or call switchboard at 202-456-1414.
You can write a message to the White House at whitehouse.gov/contact
You can tweet the President at @realDonaldTrump.