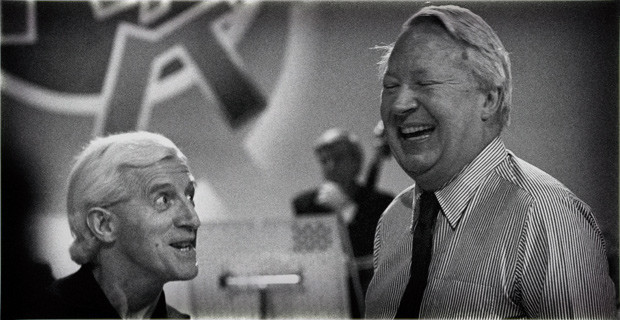 [A propósito das recentes revelações e acusações de pedofilia, vindas de um polícia de topo britânico que investiga este caso - e que estão a ser abafadas pela imprensa portuguesa...]
UK Kicks Out US Journalist Investigating Former PM's Alleged Pedophilia

[Sputnik] Europe | 10:19 05.08.2015 (updated 12:26 05.08.2015)

A reporter from the US who was investigating allegations that former British Prime Minister Sir Edward Heath abused minors at a children's home on the island of Jersey says she was prevented from carrying out her work by the British authorities.

A journalist from the US told a London radio station that she was forced to leave the UK in 2011 by the authorities after attempting to investigate allegations that former Prime Minister Sir Edward Heath had sexually abused orphans at a children's home on the island of Jersey.

Leah McGrath Goodman, a finance journalist, told LBC radio that while she was carrying out investigations into the tax haven, a British Crown dependency in the English Channel, she came across allegations of child abuse committed by powerful and influential people in British society.

"Ted Heath was one of the more prominent allegations."

Despite her British visa, McGrath Goodman says that she was thrown out of the country after being detained at London's Heathrow airport when she returned to the UK to investigate the allegations further.

"There was a notation on my file that told them to put me in custody. They detained me for 12 hours; they went through all my things."

"They took away everything, my phone, my passport, I didn't have anything. I didn't know what was going on. Eventually I found out that that was why [because of her investigation into the pedophile allegations], but it was only right before they deported me."

       "And then they banned me for two years from entering the UK."

In the interview, McGrath Goodman was also asked about the allegations she'd heard about the former British Prime Minister, which she was prevented from investigating further.

       "On the island it was very widespread that he had enjoyed using his
       yacht, it was called the 'Morning Cloud,'" and he would come to the
       island quite frequently and from what I understand from people on the
       island and off the islands, he would take the children from care homes
       for rides on the yacht."

       "And it was reported that some of those children never came back."

McGrath Goodman said that according to the reports, Heath was one of "quite a few VIPs and high-ranking people in the government and in public life" who frequented the 'Haut de la Garenne' care home. The facility was also frequently visited by the late Jimmy Savile, a DJ and television personality who was later revealed to have raped and abused hundreds of children.

"What they are saying is, the children were loaned out quite regularly to high level people. They were often brought back, sometimes not. The records will say things like, 'the child ran away.'"

"But there was no effort to find them."

When asked whether she thought the British government was complicit in covering up the allegations, she responded that "I have seen a pattern of trying very hard to look the other way."

Though it is difficult to prove that the authorities were purposefully obstructing the investigation, said McGrath Goodman, "It is quite a coincidence that every time people try to take the matter and bring it to somebody in authority, it never seems to go anywhere."

The States of Jersey police confirmed on Tuesday that Heath was being investigated as part of its Operation Whistle enquiry into child abuse carried out at homes on the island; it is one of five UK police forces now investigating allegations of child abuse against the former prime minister.

Sir Edward Heath, who died in 2005 aged 89, was the Conservative Prime Minister of the United Kingdom from 1970 to 1974.